Just when we thought it was safe to go back to the beach and unplug for a while, the folks over at Slots Capital have now successfully pulled us back onto our devices. This is because they have come up with a crazy promotion that is going to have players from Virginia to California frothing at the mouth with a crazed look in their eyes…almost as if they had lost all their marbles.
That's right, the new slot game from Rival dropped this week and Winsanity is now sweeping the nation and working Americans up into an absolute frenzy. What exactly is causing this wave of unbridled chaos? Well, it's the fact that this 3 reel creation only comes with one (1) payline so you'd better not be looking for lots of bells and whistles. Yes you understood that correctly, there's only one way to win in this game and that's straight across the middle, just like the machines your grand pappy used to play down at the Golden Gate Casino on Fremont Street. It's an extravaganza of classic 7s, Bars, and Cherries, all laid out for you in beautiful colors.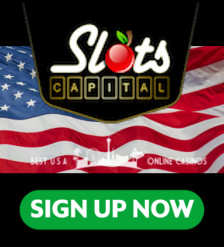 Now you can grab tons of free spins for Winsanity at Slots Capital Casino for the next two weeks and the maximum amount that are available there is truly "insane". That's because you will receive anywhere from 77 to 250 spins depending on how much you deposit with them, making this one of the biggest promos of the month. Just enter any of the bonus codes below when making your transaction in their cashier and the gratis games will be automatically issued to your account.
Deposit $35 get 77 Spins: "WINSANITY77"
Deposit $50 get 100 Spins: "WINSANTIY100"
Deposit $100 get 150 Spins: "WINSANITY150"
Deposit $200 get 250 Spins: "WINSANITY250"
As you can clearly see, there are many different options to suit bankrolls of all sizes in order to allow every player a chance to get in on the action. The only thing to remember is that all winnings come with a 60x rollover requirement before you can withdraw them as cash and you'll therefore have to re-wager the funds a bit beforehand.
These free spins are getting locked in the insane asylum on August 8th, 2019 so you'd better go sign up at Slots Capital now to get them while you still can. Just don't forget your straightjacket!