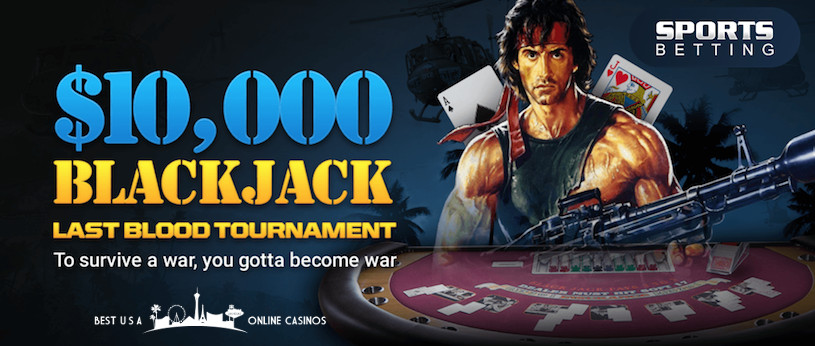 Every American knows the toughest Vietnam War veteran in the country is John Rambo and thankfully he finally has an online blackjack tournament named after him as an ultimate sign of respect. One day there will no doubt be a statue of him erected in Washington and let's just hope that Sylvester Stallone is still alive to see it when it happens.
So just what in the holy hell is going on here? Well, it's the Last Blood Tournament at SportsBetting.ag that's going to blow you away with its aggression, machismo, and cash prizes. From now until the end of the weekend you can enlist in Rambo's army and fight the godless enemy (other players not the Viet Cong) in order to battle your way to the top of their leaderboard. If you're successful in your mission you'll grab the largest chunk of the $10,000 pool and be able to brag to anyone who will listen to you that you're the baddest beast in the jungle.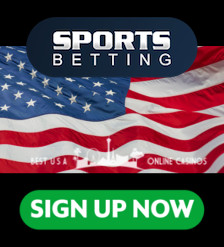 You can enter the fire fight for the low price of $10 and keep firing until the white flag is raised at 11:59pm on Sunday night, September 22nd. Each buy-in issues 100 tournament chips to utilize in the best way you know how, in an effort to climb up the leaderboard. The Top 50 will enjoy a piece of the pie with prizes starting at $3,000 for 1st and going all the way down to $25 for the bottom ten finishers.
This wild excitement is nothing new at SB.ag as they've been launching tons of great casino promotions all summer. They even have a full sportsbook taking NFL bets on everything from totals, spreads, and moneylines, and loads of player props – you can lay down some money on your favorite team while firing shots into the 21 tables all day on Sunday. Talk about relaxing!
Anyone wanting to take aim at being a hero should go register at SportsBetting.ag now and prepare to fight. This is one showdown you do not want to miss – just watch out for the unforgiving boobytraps set on the jungle floor.
If you want blood…you got it…