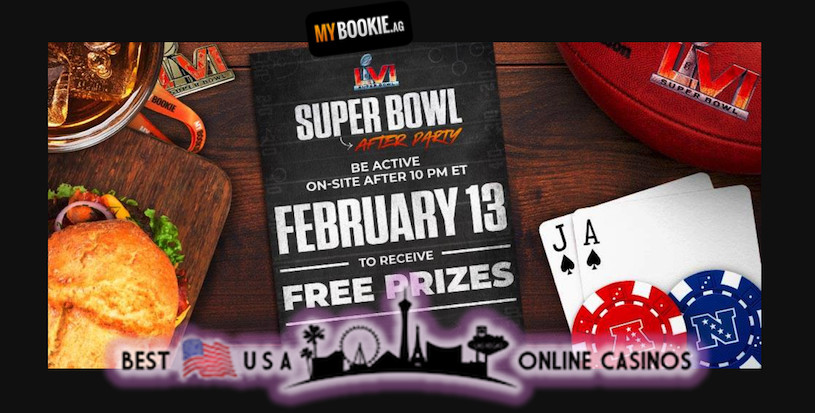 The fun isn't over once the Lombardi Trophy is presented tonight because reviewed and approved MyBookie is throwing a Super Bowl After Party and every member is invited. Although, anyone joining the festivities better arrive with an empty stomach since this "soiree" is serving up a huge buffet of extra goodies.
An interesting aspect to this promotion is that nobody knows the total value of their prizes before accepting them, so anything and everything is on the table. The only details revealed were Prize #1 consists of complimentary casino chips and Prize #2 involves free spins for U.S. slots, but neither the name nor genre of machine is presently known.

The first incentive is claimable at 10:00 p.m. ET with the 2nd launching at 1:00 a.m., however, both will be promptly removed at 4:00 a.m., so make sure to keep an eye on the clock. Thankfully, grabbing these enticements is easy and merely requires selecting Claim Now on the pop-up banner that will display upon the game's conclusion, with special offers automatically issued to accounts within 10 minutes of confirming.
To use the perks simply visit the Available Bonuses Section to see how many chips were received and then navigate to the tables listed. This will be followed by a random number of credits that can be used for a specific game, redeemed by clicking its logo to begin playing.
The promo terms are reasonable since an effortless 10x rollover requirement is attached to any winnings, which sometimes goes as high as 50x or 60x at other places. Those sticking around after clearing these obligations may also register for one of the three MyBookie Free $10k Super Bowl Blackjack Tournaments and hopefully utilize a winning 21 strategy to beat competitors to take a share of the five figure bounty.