As if there wasn't going to be enough action with football gambling this autumn, there's now a great way to play blackjack at U.S. online casinos thanks to a huge new tournament that was announced today. It's yet another fun promotion from up-and-coming operation SportsBetting.ag, who have crammed so many Survivor Pools, Pick 'Em contests, and freebies into their site it's hard to keep track of them all.
This one's calleed the $20,000 Sports Touchdown Blackjack Tournament and it's running on the Mondays and Tuesdays of the second week of each month throughout the 2019 NFL Season. The great news with this one is that it's absolutely free to enter and anyone who's bet on football in the previous two weeks will be given tickets to join. Those who lost $100 or more will be given 1 free entry and if the losses were $500 or more they'll thrown in a gratis rebuy as well.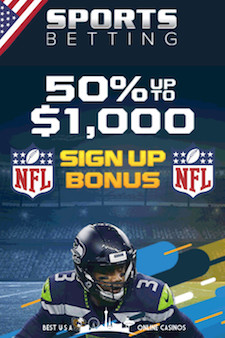 Or if you actually win when you gamble on NFL you can just buy in to the tourney for $100, with re-buys costing the same, and no limit on the number that can be purchased. Everyone starts with 200 tournament chips and whoever ends up with the most points when the time limit expires on Tuesday night gets paid: 1st grabs $5,000, 2nd $2,500, 3rd $1,000, and then smaller cash amounts all the way down to $100 for the 50th position on the leaderboard.
There's only a bit of "fine print" to know going in: all prize amounts arrive with a fat 40x rollover requirement before they can withdrawn and any unused funds go back to the House if not used after 7 days. There's also a detailed breakdown of the obligations in the rules since every game contributes different percentages to the rollover, with any activity in the Live Casino not being counted. This is certainly a shame since SB.ag has some of the finest female (and male) live dealers in the industry, although they allow members to hang out at tables to watch the action even if they're not actually seated with chips in front of them.
So if you want to get in on some early week blackjack action this football season, head on over and register at SportsBetting.ag today and dive in. Don't forget to check out their promo page too since there are tons of different contests currently listed as well.