Loyal readers of this website will be absolutely sick and tired of hearing about the virtues of using Bitcoin to deposit at U.S. online casinos, but believe or not there are still many out there who haven't switched over yet. The usual excuse has something to do with the process being too complicated, but after only 1 or 2 times it becomes old hat. Just ask anyone under 30 years old what they use to move funds over the internet and 99% will say some type of cryptocurrency.
Its popularity is simply due to it being fast, secure, guaranteed, and 100% anonymous without leaving a paper trail for a spouse or anyone else to stumble upon. Most people appreciate privacy so this comes as no surprise, and now there are two new awesome BTC bonuses launched at a leading American betting site for autumn 2019 to reward those who have stepped into the 21st century.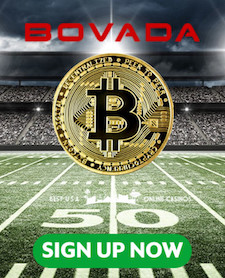 Their company may be over 20 years old but the Bovada Sportsbook & Casino has a fresh look and excellent user experience no matter what type of games are being played, or on which brand of device. Many veterans will remember them back when they were called "Bodog", building their name through professional customer service and rock-solid security features. Now they've announced they're increasing their Bitcoin bonuses effective immediately and players across the USA are invited to take advantage of them.
There are two unique offers to choose from depending on what you like to play, with the extra cash for each being firmly locked up and only available for that specific product. First off is a 75% BTC match bonus up to $750 for all new members who join them to bet on sports, usable on every league offered such as NFL, NBA, and NHL. The funds can be wagered on moneylines, spreads, totals, parlays, teasers, and everything else under the sun.
The other option is the Bovada Casino Bitcoin Bonus issuing a 125% match up to $1,250, spendable on any of their wonderful slots or table games like blackjack, roulette, and craps. The main thing to remember with both of these offers is that there's a rollover requirement attached to prevent people from running off with the free money, making it necessary to fulfill wagering obligations before withdrawing funds. This term is found everywhere and it's nothing to worry about, with the 5x on sports and 25x on casino being quite reasonable numbers when compared to their competition.
So if you want to gamble with Bitcoin at Bovada, go sign up with them now and take advantage of these amazing perks while you can. Huge crypto promotions like these are definitely few and far between.