If you're the type of gambler who likes to "cut and run" when the going gets tough, there was a new U.S. online sportsbook feature launched this month you'll definitely want to hear about. It gives players the unbelievable ability to give up on bets and get a little more money back in their pockets when things aren't going according to plan.
The new settlement option is somewhat similar to "surrender" in blackjack because a portion of the wager is returned before the final result comes to pass, allowing a semi-respectable France-like retreat from the battlefield to fight another day (or simply choose to lay down your arms and be totally vanquished by the enemy). Veteran sports bettors will know it by its traditional name of "Cash Out" and now the Bovada online sportsbook and casino allows all of its members to "throw in the towel" and take back some cash before the game is over and officially in the books.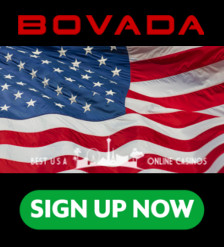 The payout amount is a simple calculation based on the odds of the bet ultimately being a winner, which will be updated continuously throughout the action. They will be offering this feature for all sports soon, but currently it's only available for NCAAF, NFL, and 1×2 soccer moneylines. They're firmly on record, confirming basketball, hockey, and baseball will be added before the end of the year so all of the major leagues will be eligible to prematurely return funds.
To use an extreme example to get the point across, if you took the Rams to win but they're down by 14 points with 10 seconds left in the 4th quarter and on defense against the Seahawks with no timeouts left, their probability of winning is 0%. Alternatively, the chances of the Seahawks winning are obviously at 100% in this specific situation. So the new Bovada Cash Out option constantly crunches the numbers for all to see and allows you to take back a portion of your bet amount at any time.
The process for claiming the Cash Out takes two seconds and the current payout will always be displayed by the wager in the "Open Bets" section of your account. Just click "Cash Out" at any time to have the wager settled and the funds will be placed onto your balance in seconds, immediately available to be spent on any of their great products.
Like Kenny Rogers always said, You gotta know when to hold 'em, know when to fold 'em, so head on over and join Bovada today to start getting paid much earlier than other offshore books. Raising the white flag of surrender never felt so good.