As America wanders inside and closes its doors to begin self-isolation of unknown duration, having fun staying home is going to be the #1 priority for most while waiting for COVID-19 vaccines to emerge. Everyone knows idle hands are the Devil's tools so thankfully some U.S. real money slot games were released this week, providing a new way to battle boredom while hopefully stacking up enough cash to eventually buy Coronavirus medicine.
Four exciting titles emerged, each with a totally unique look and feel, guaranteeing at least one will tickle fancies. Whether it's a need for speed, a massive sweet tooth, or an insatiable urge to rub strange golden lamps, all itches can be scratched.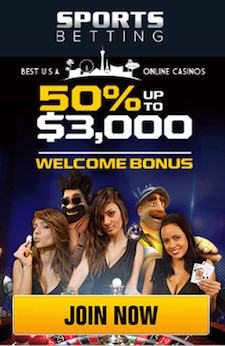 First up is traditional Bottled Wishes Slots showcasing shining swords, overflowing baskets of fruit, and a stereotypical blue genie with a large beard and long ponytail. Yes ladies, he's both single and willing to pay for the entire date – as long as you can shake those Arabic gold coins out of his man-purse, of course. This machine is a 5 reel, 20 payline adventure swirling in pastels and lace, awarding prizes at medium to high volatility.
Speaking of games that might be volatile, Super Sweets Slots will make Willy Wonka jealous and hopefully boost bankrolls with loot to boot. This one keeps it simple with 5 reels and an easy-to-digest 10 paylines, ensuring players won't be left doubled-over with a tummy ache.
These new concoctions are found at safe and secure SportsBetting.ag Casino who procured all four and are ready to greet visitors to their usually sports-focused site, especially since leagues around the world are currently on pause. Sure they're mostly known for boasting a huge offshore sportsbook but there's also an enormous section of Vegas-style attractions, as well as a classy racebook.
In fact, "SB.ag" is offering a 50% Welcome Bonus, although those wanting to deposit and gamble with Litecoin or other cryptocurrencies receive a fat 100% match on initial transfers, doubling starting balances. This is only one of many perks presently posted as generous rewards are constantly handed out, just like sister site BetOnline, showering clients with extras to keep them entertained.
Getting back to "boredom-busters", anyone over 40 will love Total Overdrive due to its glowing neon 1980s theme and radical reel design. This is like nothing ever seen before in the iGaming industry because it features a retro yet modern take on traditional symbols of cherries, 7s, bars, and diamonds. Bringing 3 basic reels and 5 paylines to the party, no one need worry about overdosing on action.
Finally, if craving insane experiences, load up Mystic Rift and dive into its mysterious world of vibrating caves and long swaying grass. An ominous, dark setting isn't what's intimidating about this machine though, it's the insane nine reels of symbols throbbing every spin, hypnotizing players not prepared for a dizzying light show. If that wasn't demented enough, it also pays out a ridiculous 40,503 ways. Yes, that's correct, there are over 40,000 winning paylines to keep track of and it's completely understandable if just reading that induced a headache making eyes roll.
However, if up for the challenge, go visit SportsBetting.ag to rappel down into mystic caverns and take a crack at smuggling out a few exotic jewels to add onto any existing private collections.