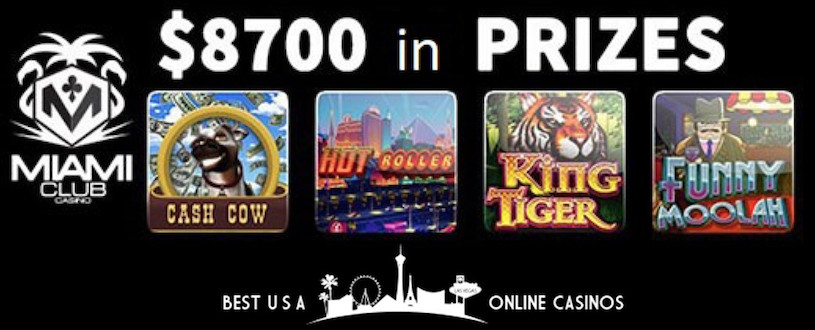 The mercury has definitely been plummeting this month and it's sadly time to come inside and get ready for winter. Thankfully, a huge series of American online slots tournaments were announced running throughout October to keep us occupied now that beach weather is over. Although, those in southern states are certainly able to play in any of the following events on cell phones from anywhere in the beautiful outdoors, internet connection permitting.
Always high-energy Miami Club Casino is hosting four unique competitions throughout the month, each showcasing a specific machine and boasting various prize pools. Buy-ins and rebuys are quite affordable at $5 a piece, ensuring players of all budgets can take part and try to get a slice of the pie.
Starting with the smallest prize amount, Big Laughs featuring Funny Moolah Slots extends a pot of $1,000, running from October 13th to 27th with everyone is invited to join. Next up is Rolling on the River spotlighting Hot Roller with $1,200 added, split up amongst those atop the leaderboard on October 28th.
Then action gets "wild" with Jungle Cat unleashing King Tiger Slots and a bounty of $1,500 that'll be split up by the luckiest spinners on October 20th. Finally the The Month Long Tournament opens to all members for Cash Cow, milking out the most money with a pale of $5,000 USD being served up to finalists on October 31st.
So those thirsting for head-to-head competition for bundles of loot should head over and register at Miami Club today to shoot for the top. Good luck to all!