If you're ready for more casino promotions for Halloween 2019, you've definitely come to the right place. There are many creepy contests and offers currently out there but only truly lucrative ones are reported to our readers. So with that in mind, today brings a great one for anyone wanting to play USA online slots for real money but also get a few treats tucked into bags as well.
This spooky extravaganza comes courtesy of Deckmedia and flagship destination, Sloto'Cash, known for their robotic mascot and steady stream of marketing events. This week's promo is all about voodoo and sexy witches so there's a little something for everyone regardless of personal taste in machines. This amazing bundle of extras will have clients snacking for a while so make sure to brush those teeth when finished.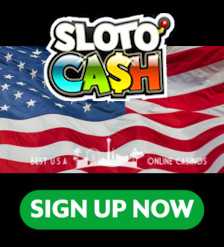 The format is a familiar one for them and each of the following must be redeemed in order, with the first item up for grabs a 100% casino deposit bonus plus 50 free spins on Bubble Bubble Slots. Then if busting out, transfer $30 or more to receive a 150% match with 100 pulls on Voodoo Magic Slots for the trouble.
Afterwards, goodies get absolutely loopy via not one but two batches of complimentary yanks, with 100 for Witch's Brew Slots and another 100 on Voodoo Magic, just to encourage keeping pins and dolls in separate rooms going forward. That's 200 gratis games in total, simply for claiming other incentives:
100% Match + 50 Spins: VOODOOWITCH-1
150% Match + 100 Spins: VOODOOWITCH-2
100 Witch Spins Reward: 100WITCHMAGIC
100 Voodoo Spins Reward: 100VOODOOMAGIC
Those who enjoyed our exceptionally-thorough review of Sloto'Cash already knows they list some of the greatest offers in the industry and now it looks like they're on a sugar high and piling free spins on top to over-stuff members with goodies. These are available to both new and current players, allowing everyone a fair chance to wake up with a stomach ache after consuming. It's a fantastic way to try out their products and services without plunking down a big wad or jumping in with both feet.
Be warned though because these incentives spoil on November 15th, 2019 so go knock on their door and sign up today if craving a little something for your sweet tooth. Don't forget to bring a glass of milk!