The highly-anticipated third match between Dustin Poirier and Conor McGregor goes down this Saturday in Las Vegas, a thrilling main event headlining an excellent card of fights. Featured bouts include Welterweights Gilbert Burns vs. Stephen Thompson, Heavyweights Tai Tuivasa vs. Greg Hardy, Women's Bantamweights Irene Aldana vs. Yana Kunitskaya, and Bantamweights Sean O'Malley vs. Kris Moutinho, and now the $5,000 UFC 264 Predictor pledges huge bundles of loot to the evening's leading 75 prognosticators.
Firstly, host BetOnline is 100% legal in the USA and accepts players from anywhere in the country without restriction. In business for over 20 years, a strong reputation was built on a variety of products, financial incentives, and awesome contests like this one.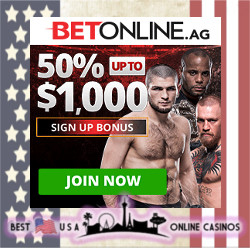 Entry into The MMA Predictor is absolutely free, merely requiring a total of $25 in action placed on UFC 264 in any combination of straight wagers. As per usual, parlays don't qualify but live bets do, hopefully allowing opportunities to present themselves throughout the night if nothing attractive is found beforehand.
Forms list 12 questions with each correct answer issuing one point, any ties afterwards broken by a deciding question of, How many total strikes landed in the Poirier vs. McGregor Main Event?. Equivalent scores after that simply split the next lowest prize amount, top tiers consisting of 1st snagging $500, 2nd getting $350, 3rd receiving $250, 4th pocketing $200, sums then descending to $35 for spots 56 to 75. Funds arrive before Tuesday and hold a 3x rollover obligation before eligible for withdrawal.
Registration closes at 10:00pm ET on Saturday, July 10th, 2021, so visit fully-endorsed BetOnline Sportsbook soon if seeking a shot at extra gains. Below are the necessary predictions to fill out, accessible once logged into accounts and navigating to their contest page.
Saturday, Jul. 10 – 10:00 PM ET

1) Which main card fight will end the fastest?

Sean O'Malley vs. Louis Smolka
Irene Aldana vs. Yana Kunitskaya
Tai Tuivasa vs. Greg Hardy
Gilbert Burns vs. Stephen Thompson
Dustin Poirier vs. Conor McGregor
All fights go the distance

2) What round does the O'Malley vs. Smolka fight end?

1st Round
2nd Round
3rd Round
Goes the Distance

3) Who will win this fight?

Sean O'Malley
Louis Smolka
Draw/No Contest

4) How many takedowns landed in the Aldana vs. Kunitskaya fight?
0
1
2
3 or more

5) Who will win this fight?

Irene Aldana
Yana Kunitskaya
Draw/No Contest

6) How many knockdowns in the Tuivasa vs. Hardy fight?

0
1
2
3 or more

7) Who will win this fight?

Tai Tuivasa
Greg Hardy
Draw/No Contest

8) Will Burns vs. Thompson fight go the distance?

Yes
No

9) Who will win this fight?

Gilbert Burns
Stephen Thompson
Draw/No Contest

10) What round does the Poirier vs. McGregor fight end?

1st Round
2nd Round
3rd Round
4th Round
5th Round
Goes the Distance

11) How will the Poirier vs. McGregor fight winner be decided?

Submission
KO/TKO or DQ
Decision
No Contest

12) Who will win the Main Event?

Dustin Poirier
Conor McGregor
Draw/No Contest