Some fantastic news arrived today for anyone who enjoys U.S. slots casinos as a legendary website announced they're hosting huge weekly tournaments from now until the end of summer. Every Monday $5,000 in cash is up for grabs, awarded to members as real money and not bonuses requiring rollover before withdrawal.
This intriguing Ultimate Spin-Off series is yet another in the long list of current BetOnline promotions providing excellent opportunities to earn extra gains without risk. Their marketing department has been churning out countless fun contests since last year and show no signs of slowing down in 2021.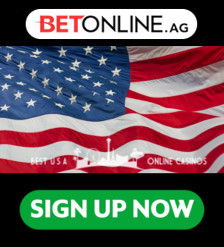 Events are private and "invite only", however, entry is absolutely free and it's easy to secure a ticket. Just generate $4,000 in total handle over a minimum of 4 days during the previous week and then wait for a notification to arrive by text or email for the following tourney. That amount may initially appear large but it's actually produced quite quickly as most online slot machines return 97% of stakes back to players.
Qualifiers receive 250 chips to generate as much profit as possible to work their way up the leaderboard, those unsatisfied with results able to rebuy for $5 and try again with a fresh bankroll. Make sure to find a comfortable chair because each occasion is a six hour spinning marathon starting at 6pm ET and ending at midnight.
Upon conclusion, chip stacks are counted and participants in first place win a cool $1,000, with 2nd pocketing $750, 3rd and 4th acquiring $500, 5th to 9th snagging $250, sums then descending down to $50 for positions 15 to 24. Funds arrive within 48 hours and are spendable on any casino game desired, including BetOnline Live Dealer Tables which are usually excluded from promos.
The inaugural Ultimate Spin-Off begins tonight in a few hours so visit soon if craving a complimentary pass to the action. Considering $5k is split among 24 people, the odds of getting paid are certainly decent.