When someone is talking about a "WU Casino" you better not think that they're talking about playing a little roulette with the Wu Tang Clan because the term has nothing to do with RZA, Ghostface Killah, or any of the other Staten Island rap legends. What we're actually referring to is a "Western Union Casino" and the person using it is trying to find out which places still accept one of the oldest ways in America to move money around – thankfully, it's all electronic these days and you don't have to wait for a stagecoach to arrive.
There are still a few trusted U.S. betting websites who accept Western Union deposits but you're going to have to pay through the nose to get funds to them. It's definitely the most expensive banking option in the States today so be prepared to incur a lot of fees to execute the transfer. In any event, based on our strict criteria, the following online sportsbooks and casinos are the only places that we can recommend for money order deposits with 100% confidence at this time in 2019.
Years ago places like Bovada (aka Bodog) would cover your transaction fees for WU deposits of $200 or more but they stopped doing this right around the time that Bitcoin started to get popular. No, this wasn't a coincidence, and they began pushing all of their players to use cryptocurrency of any kind. We certainly do miss the days of sending off our bankrolls to strangers in the Philippines and having to lie to the clerk at the store and say that we had lots of different relatives in "Quezon City". This is just how things worked back in 2006.
Thankfully, Western Union have started displaying all of their fees before you confirm the money order so there are no more surprise charges after you've sent the funds. There's nothing worse than thinking something is going to cost $300 and then see that they billed you an extra $40 when you look at your statement.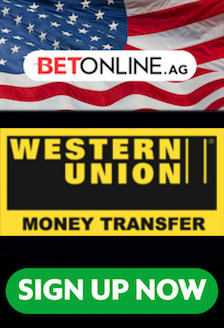 You'll also want to make sure that there aren't going to be any currency conversions throughout the process because that's how WU makes money too, since they give you worse exchange rates than you'd get at the bank. This of course allows them to skim even more off the top and generate extra revenues from your order.
All of these inconveniences are why we created a full list of the best banking options for internet gambling and regularly update it as new ones become available…and old ones pull out of the market. Loyal readers of this website already know that we're constantly preaching the use of cryptocurrency to avoid the extra costs and headaches that traditional payment tools have. If anyone's too lazy to click on the deposit guide above, just know that we currently have money orders ranked 10th out of the 11 possible ways that are recommended. That should tell you all that you need to know.
For those ready to make the move to something a lot more civilized, go find out how to deposit at USA sportsbooks and casinos with Litecoin or any one of the other cryptos that are listed on the banking options page in the top menu. You'll be very happy that you finally made the switch, no matter which Alt Coin you end up choosing.
To everyone out there who wants to stick with Western Union – you're going to have to find an alternative sooner or later, so you might as well start doing some research now. Don't get caught with your pants down.