Today there's yet another fun U.S. online sportsbook promotion to report on for the 2019 NFL season and this one can be entered at any time of the year, even as late as Week 17, as it starts fresh every week. This might actually be the hardest one of them all to win and it's probably going to take a lot more "luck" than "skill" to scoop up the pot.
Throughout the football year, if you're able to correctly predict every game in a given week against the spread (ATS), you will win a cool $100,000, allowing you to take the rest of the winter off and fly down south to bask in the sun. With that much cash in your pocket your beach hut should be air conditioned and come with a fully-stocked minibar (plus extras, of course).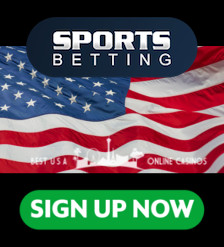 Just like the promo we published earlier in the week that's enabling customers to win money for predicting Monday Night Football scores, this one is being hosted at two unique places. Both are owned by the same company and they've been in the industry for close to 20 years: BetOnline and SportsBetting.ag. The latter is their new casino for superstitious gamblers to go to if they want to mix things up, although in the process they're accidentally allowing players to double-dip in all of their cool contests (like this one).
It's simple to qualify for a free entry at both sites and all you have to do is make at least $50 of real money wagers over the seven days leading up to Thursday Night Football, since all of the picks for the week have to be in by 8:10pm EST every Thursday. Yes, this means that you're sometimes going to have to predict teams ATS without knowing which players are starting, but that's all just part of the "fun". It's understandable it works this way since they put $100k on the line – that's a lot of loot to risk.
All you need to do is log into your account, go to the promo area and fill out your predictions, then click "submit" and you're done. The only fine print to be remembered is that pushes and cancellations are graded as a loss, so take a long, hard look at those spreads before locking in your picks.
This is an easy contest to get into since most gamblers make a lot more than $50 worth of wagers each week, so split up your action and qualify at both websites. Go visit today to take a look around and if you like what you see, register at BetOnline and take a shot at a perfect NFL parlay. Those margaritas in Jamaica aren't going to drink themselves!