Summer is almost here and BetOnline is celebrating by awarding massive cash prizes for winning slot players this weekend, sure to change the lives of many. It's a standard event that'll be familiar to most, except for certain financial details making it much better than normal.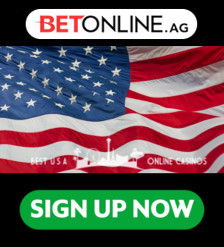 The $50,000 Fruit Loot Slots Tournament obviously features the namesake machine, however, entry fees are absolutely free for all members. Starting with $500 in tourney chips, the goal is to generate the largest balance possible before time runs out on Sunday. If unhappy with initial scores, simply buy back in for $5 as often as needed to climb the leaderboard and remain in contention.
Although, placing in the money shouldn't be tough because a whopping 400 individuals finish with a balance bump, 1st receiving $7,000, 2nd getting $3,000, 3rd grabbing $1,500 and 4th to 10th feasting on $500. From there, 11th to 100th enjoy $200 then amounts slowly decrease down to $20 for places 301st to 400th. Victory funds are then available for use on specific fun and exciting casino games, arriving with a 50x rollover requirement and expiring after 7 days. The only main omission is live dealer tables, which is disappointing but understandable as they're run by a 3rd party company and have strict restrictions on issuing rewards.
Millions of people have joined since they opened nearly 20 years ago, as BetOnline is 100% legal for Americans, offering every iGaming product imaginable all in one place. They're basically "Las Vegas in a box" providing poker tables, full sportsbook and bingo, everything fully accessible on mobile devices of any brand.
Action's already kicked off but it's running all the way until Sunday night at midnight, leaving plenty of time to get busy and rocket up the standings. So those enjoying competitions and Fruit Loot should head over to BOL and register now to partake.