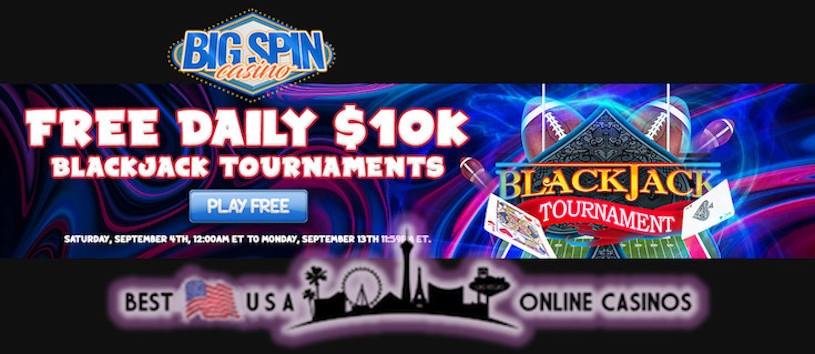 September has arrived to bring school, slightly cooler weather, and a chance to win cash playing online blackjack courtesy of a fantastic new series of events. Beginning over the weekend, $2,000 in cash has already been scooped up, but the good news is that $98,000 is still up for grabs.
The Free Daily $10k Blackjack Tournaments are running at top ranked BigSpinCasino, a quiet destination that strangely never advertises their many amazing qualities. Featuring a full suite of Las Vegas games including live dealer tables, video poker, and jackpot machines, U.S. customers always get treated like VIPs.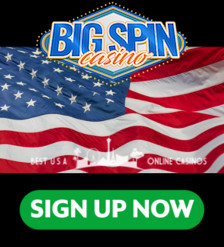 Tourneys start every day at midnight and finish at 11:59pm ET, with the next one kicking off as soon as a second ticks off the clock, so be prepared for constant battles. All members receive a complimentary invitation to each, however, if unhappy with scores when busting out, unlimited re-buys are available for $5 a pop.
An astounding 1,000 positions are paid every 24 hours, with 1st place pocketing $1,000, 2nd obtaining $500, 3rd nabbing $400, 4th securing $200, amounts then gradually dropping down to $5 for 301st to 1,000th. Funds arrive with a tiny 10x bonus rollover before cleared for withdrawal, ensuring even casual clients can quickly collect their gains.
The last occasion is on Monday September 13th, so visit BigSpinCasino soon if interested in a flutter and an opportunity to evaluate 21 techniques against random competitors. Signing up new accounts and partaking takes less than five minutes, simply requiring a brief form to be filled out, then navigating to their active promotions page to register.