We're almost at the end of the month which means it's time to buy treats, clean up smashed pumpkins outside, and search for a ghoulish iGaming promotion to jump into. Well, we're in luck because the 2019 edition of The MyBookie Halloween Fest is once again set for end of October and first week of November.
For readers unfamiliar, our honest review of MyBookie explaining why they're ranked #1 highlighted what's needed to be known before registering. Every casino game imaginable is listed, a full sportsbook taking NFL and NBA action, and constant huge bonuses and fun contests are posted throughout the year.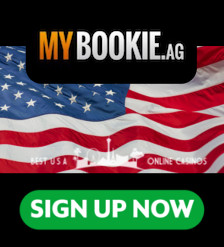 This year's Halloween Fest is stuffed with goodies as marketers are handing out bag-fulls of treats in the form of financial incentives to those successful in any awesome event. Starting off, every $50 in wagers earns one "candy", which is a raffle ticket for a $3,000 weekly draw. Note that any chips risked on live dealer tables won't count as only electronic products qualify, with such attractions as roulette and slots contributing to entry totals.
This is an excellent opportunity to snag some extras since treats are handed out to 100 individuals each time, increasing odds of victory, even though it's a small nugget. All raffle tickets reset after each draw and bonus rewards come with a 40x rollover before they can be requested in a payout.
Also, two tournaments offer free online blackjack to win real money each week, with prize pools of $3,000 dispersed to the top 200 leaderboard places. The first 21 function is MB Mad Night and then MB Halloween, so they'll be impossible to miss once live.
To top it all off, at promo's end on Thursday, a huge $5,000 raffle pays out another 200 people having tickets drawn from the prize barrel. Talk about being the best house on the block for treats!
The first week is running now until October 28th with the second kicking off on Wednesday, ending on November 4th so time is running out. Anyone craving tickets should signup at MyBookie today to maximize chances of winning. Finally, there are some "adult candies" to feast on!