Today it was announced that India, South Africa, and probably the United Kingdom are going into lockdown, meaning our beautiful country can't be far behind. This will be a stressful time for everyone involved but those who like to play online blackjack for real money will at least have a little something to keep them busy thanks to a stellar partner who comes fully recommended by both our staff and readers.
In the few years since launching they've become known for great promotions and enormous bonuses, pleasing thousands of happy members along the way. Now the huge March Blackjack Tournament Series at top-rated Wild Casino is running from now until April 5th, 2020, guaranteeing an astounding $225,000 in prizes throughout its duration.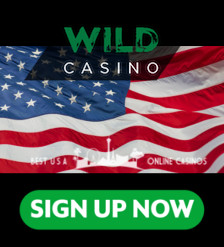 Round #1 ended yesterday awarding $50k in loot to lucky finishers, but there are still 2 more segments to go and tons of opportunities to bank some cash. The second leg starts on Thursday, March 26th and ends on Sunday at midnight, with a total purse of $75k and a modest entry fee of $30 releasing 500 tournament chips to use as fuel to ascend the leaderboard.
Anyone busting out can re-buy for just $15 and take more shots at finishing among the Top 68, which will qualify them for at least a $50 bill. Amounts then steadily climb all the way up to $4,100 for 3rd, $7,000 for 2nd, and a juicy $12,000 for 1st, financing many more months of self-isolation.
Then round #3 kicks off Thursday, April 2nd (again terminating on Sunday) providing a cool $100,000 up for grabs, again divided out to 68 players depending on final position. This one is slightly pricier to get into with $50 releasing 750 chips, however, all prizes are jacked up as a result. Anyone hitting cold shoes may re-buy for $25 and attempt to soar high enough to grab a minimum of $100 in extra funds. Sums then bloat to $5,200 for 3rd, $10,000 for 2nd, and a juicy $15,000 for 1st place, guaranteeing a large budget to shop on Amazon during the lockdown.
All winnings come with a hefty 50x rollover requirement before they can be withdrawn so don't expect to take the money and run like your name was "Steve Miller", and remember that American Blackjack is the only eligible game to spend it on as slots and live dealer tables aren't listed. In addition, don't dilly dally in meeting the obligations because any unused amount after 7 days will be forfeited and taken back by management, no questions asked.
So if you want to avoid COVID-19 but still have some fun and excitement in quarantine, visit Wild Casino now and get a big bonus since they're currently offering new signups a massive $5,000 package. There simply has never been a better time to take a walk through their virtual jungle and search for exotic financial rewards.