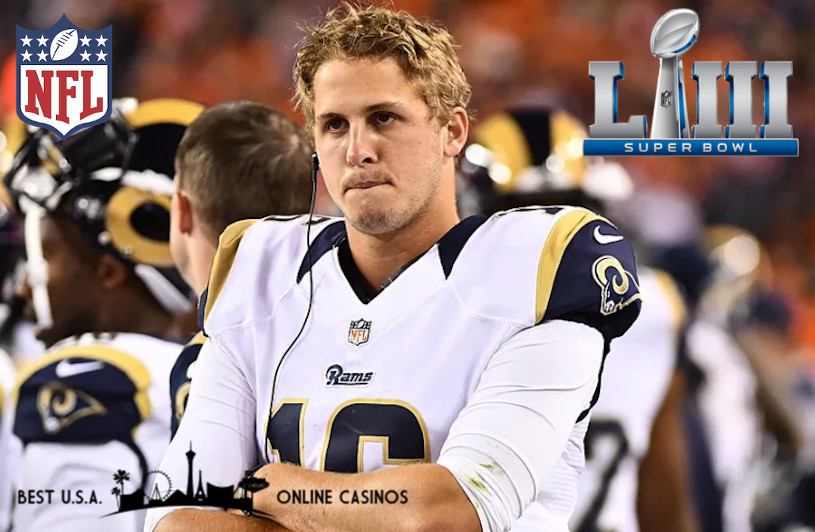 Since we published a guide to betting on Tom Brady Super Bowl LIII props, it's only right to research Rams' quarterback Jared Goff as well. Most fans agree Brady will go down in history as one of, if not the, best football players of all time, but it's going to be interesting to see how Goff's career progresses. He looks like he could be entertaining to watch for quite some time and perhaps his legacy starts this Sunday by dethroning The Golden Boy.
Expectations are already sky-high for Goff even though he's just in his 3rd NFL season and runner-up favorite to be Super Bowl 53 MVP (+250), only behind Mr. Brady (+140). So just what should be expected? Well, experts have Brady favored in every category of listed proposition wagers but nobody knows for sure. At least it's possible to get down on Jared's performance and enjoy some thrills no matter what happens.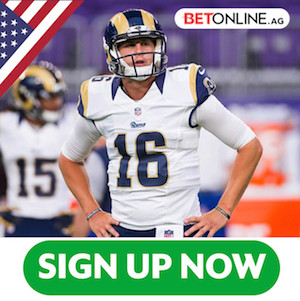 So let's start with props at American gambling site Bovada who has Total Goff passing yards? at 289½ (-115 both sides), which is only 11 yards less than Brady. David Strauss at MyBookie has 285½ so Overs should be placed there for now.
Bovada then has Goff total completions? at 23½ (-115 both sides), attracting Over action since MB has 24½ (-115). It always pays to line shop to identify potential value because a yard here or a half point there could be the difference in a loss, push, or win.
Regarding Goff's longest pass? occasionally-lazy BetOnline sometimes copies lines, here extending identical numbers to Brady with 38½, both sides awarding -110. Strangely, MB lists the same (-115), as well as Bovada (-115), ensuring zero extra value will be found.
Head Oddsmaker at BOL, Dave Mason, has set Goff touchdowns? at 2½ (O +180 / U -220), while Strauss at MyBookie NFL Sportsbook has it lower at 2 (O -125 / U -105). Then Pat Morrow at Bovada who again went with a funky multiple system allowing members to choose with 1.5 (O -215 / U +175), 2 (O -145 / U +115), and 2.5 (O +115 / U -145).
Finally, MB has Goff's total rush yards? set at 8½ (O -120 / U -110), which is 6 more than Brady. Staking quarterback rushing yards is always fun, especially when selecting Over because every time he's flushed out of the pocket you find yourself screaming.
So we'll just have to wait and see what Sean McVay has cooked up for Jared Goff this Sunday – this could be the start of an amazing journey for them or it could be a total clown show when tested against one of the greatest NFL teams of all time. The good news is that as long as you've got money on the game, you'll always have something to cheer for.