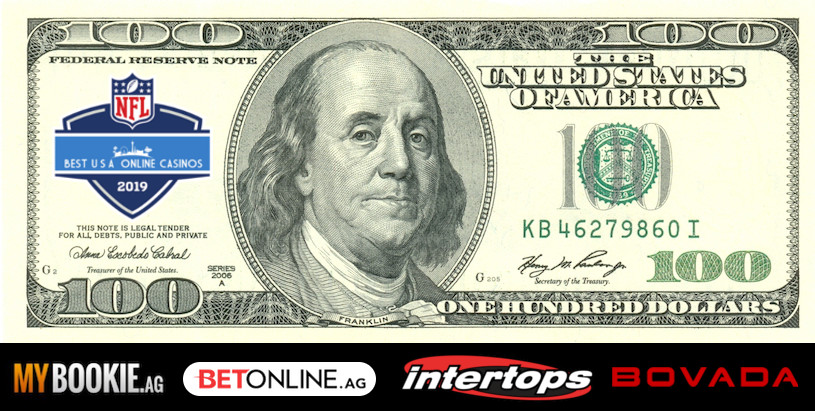 The return of NFL football is in three short days and people are scrambling to find the best USA online sportsbook bonuses for Week 1 in an attempt to stretch dollars a little further. Luckily there are a few fantastic options, so after much research they shall now be put together in one easy-to-find place.
Each has certain elements to know going in, specifically maximum amounts, rollover requirements, and timeframe in which cash has to be used before expiring. Almost every promotion has fine print stating any unused funds not risked in a timely manner will be revoked so stay vigilant. Therefore, here are the details on what four popular destinations have put together for this season.
Please note the following are strictly for credit cards, bank wires and Western Union gambling deposits, with cryptocurrency reported in separate articles as numbers and rules differ greatly. Obviously, digital coins are easier and cheaper to facilitate and will dominate the future, if not the present.
MyBookie Deposit Bonuses for NFL 2019
Starting with MyBookie welcoming players from every state including New Jersey, a 100% NFL Sign-Up Bonus is extended to anyone never holding an account before, the entire sum immediately available. Minimum to qualify is $45 but they'll match up to $1,000 so perhaps consider moving in more than that.
Rollover is a reasonable 10x on winnings before they can be withdrawn, spendable on any types of wagers, including lower odds and parlays. There's no expiry date on balances like many competit5ors, their customer service team very eager to please. Also, it's the largest match percentage and largest max amount, so if craving bang for buck, register now and start rolling.
Subsequently, players are eligible for a 25% reload up to $500 on any transaction of $100 or more with a fair obligation of 5x in advance of a payout request, reached quickly through normal activity. There are plenty of reasons to join, but this is a top spot due to their steady stream of ridiculous props on everyone from Donald Trump to Bill Cosby, as well as odds on Oscar and Emmy winners. If brands won awards for "funniest marketing and craziest gimmicks" their trophy case would clearly be overflowing.
BetOnline Deposit Bonuses for NFL 2019
Now we arrive at an operator offering a match percentage half as much as above, but boasting online poker tables for head-to-head action, which is pretty rare to find in America these days. The max is also $1,000 so it's possible to really boost bankrolls if moving in a thick wad.
Therefore, if enjoying Texas Hold 'Em, this 50% on $55 or more might be optimal, however, it can't be used on poker, casino, or racebook. In addition, it's exclusively for residents of the U.S. and Canada and arrives with a reasonable 10x requirement, any unused funds disappearing on the 30th day.
Afterwards, there's a 25% sports reload giving up to $500 on any amount of $50+ for life. That's right, BOL has written in stone that all future transactions will be eligible for extra loot, which is something definitely not found at most places. A paltry 6x rollover needs to be completed to release it, yet again snatched back if left sitting longer than a month.
Intertops Deposit Bonuses for NFL 2019
Here's where smaller promos begin that will uniquely appeal to people not moving in too much at first. It's interesting that the lowest amounts are from two of the oldest online casinos in existence – maybe they just don't need the business.
In any event, those registering at Intertops for Week 1 of the 2019 NFL Season receive a 50% welcome match up to $100. There's no expiration but it can't be used on wagers with odds less than -200 in order to protect from bandits thinking they were going to simply drop it on the Patriots four times and then bounce. It holds an 8x obligation before cleared and claimable.
If this doesn't sound appetizing the three standard choices are:
50% to $200 with a 4x rollover
100% to $100 with a 6x rollover
200% to $50 with a 8x rollover
The first one should attract a few looks since it comes with a microscopic 4x requirement, the tiniest number to be found this September. All possess identical terms stating it's only usable on minimum lines of -200 so don't get any ideas.
Bovada Deposit Bonuses for NFL 2019
They say a dog is man's best friend and this old mutt certainly qualifies for that sentiment. The "Bo-dog" in question became "Bovada" a few years ago and rebranded themselves as a responsible digital entertainment destination for anyone seeking virtual excitement and pleasure. They still provide the same great services and games but to a lot fewer clients after pulling out of New Jersey, Washington, Kentucky, Louisiana, and Maryland.
Their welcome incentive is a straightforward 100% match up to $200, enabling those on a budget to instantly double stacks. It arrives with a reasonable 5x rollover and no expiry date, allowing members to relax and get down whatever desired.
The sole commandment is to not request a withdrawal until obligations have been met because the gratis gifts and winnings generated from them will all disappear. This may seem like a stiff penalty to some but Bovada follows strict rules and regulations which are clearly posted, anyone breaching them immediately banned. It's hard not to respect their attitude as they've been in business since 1994 and never missed a player payout, earning the right to hold both themselves and their clientele to high standards.