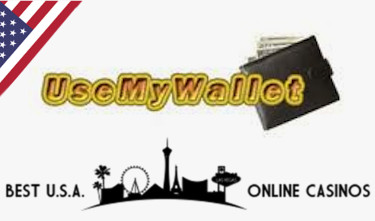 In 2008, a PayPal style e-wallet was launched for gamblers in the United States that could be used for depositing at online casinos. This new option was called "UseMyWallet" and you could fund it directly from your bank account with no trouble at all. This payment method was unique at the time because you could also use it for withdrawing your winnings, which was very hard to do once the U.S. government had shut down Direct Bank Transfers (DBT).
The company behind UseMyWallet made their money by charging small fees for each transaction, both on deposits and withdrawals, and to both the customer and the operator. At their peak they serviced between 100,000 and 200,000 people from across America as well as several other countries who also had restrictions on gambling-related financial transactions. Sadly, they closed their doors in 2012 due to pressure from the government and were never heard from again.
An interesting footnote to the UseMyWallet story is that they were primarily used by those in the USA but they didn't have an "open" registration and only accepted a limited number of applicants. This was because they didn't want to draw unwanted attention from the U.S. government as a result of the laws at the time. In those days, many people (and law makers) believed that it was illegal for financial institutions to process transactions to and from gambling sites, however, this was overturned in the World Trade Organization courts a few years later.
In any event, UseMyWallet wanted to stay small and avoid the Department of Justice and the serious penalties that would be sure to follow. However, for the brief moment in time that they were operational they were an immediate favorite for websites like Bovada and BetOnline who were scrambling to find ways to pay players out their winnings. It's somewhat ironic that DBT was shut down because it was so popular and then their immediate replacement was shut down for the same reason.
USA Online Casinos that Accept UseMyWallet
As clearly explained in the section above, there are no USA online casinos who currently accept UseMyWallet as a deposit method because it hasn't existed since 2012. They were only in business for four short years but they certainly made their mark on the industry, and today many players still think that they can use it.
So what are the alternatives to UseMyWallet and similar eWallet-style banking options? Well the best method for depositing at a gambling website is Bitcoin because the transactions are immediate and there is no paper trail with financial institutions. To be fair, it can be a little intimidating when you first start using cryptocurrency because you're basically sending your money in an untraceable way so if there are any issues you can't request an investigation. Therefore, you just have to make absolutely sure that you properly copy and paste the Bitcoin address when you are making the transaction: if the address is correct, there won't be any issues.
Once you've decided to adopt the new technology the first thing you'll want to do is learn how to buy cryptocurrency and open your new trading account. From there the rest is easy and once you make a transaction or two you'll see how simple and effective it is.
If you're not ready to take the plunge into Alt Coins you can always choose to deposit with a credit card like VISA or MasterCard, which have been standard banking methods since the online gambling industry first started in the late 1990s. Just make sure that you know about all of the fees beforehand since you can sometimes be charged for a currency conversion, a cash advance, or even "miscellaneous" fees from your bank. If you ever get tired of all those charges Bitcoin will still be waiting for you – it's honestly the best way to conduct business these days.